WHAT IS ISO 9001:2015 – QUALITY MANAGEMENT SYSTEMS?
ISO 9001 is defined as the international standard that specifies requirements for a Quality Management System (QMS). Organizations use the standard to demonstrate the ability to consistently provide products and services that meet customer and regulatory requirements. It is the most popular standard in the ISO 9000 series and the only standard in the series to which organizations can certify.
ISO 9001 was first published in 1987 by the International Organization for Standardization (ISO), an international agency composed of the national standards bodies of more than 160 countries. The current version of ISO 9001 was released in September 2015.
WHY ISO 9001?
ISO 9001 sets out the criteria for a quality management system and is the only standard in the family that can be certified to (although this is not a requirement). It can be used by any organization, large or small, regardless of its field of activity. In fact, there are over one million companies and organizations in over 170 countries certified to ISO 9001.
This standard is based on a number of quality management principles including a strong customer focus, the motivation and implication of top management, the process approach and continual improvement. These principles are explained in more detail in ISO's quality management principles. Using ISO 9001 helps ensure that customers get consistent, good-quality products and services, which in turn brings many business benefits.
BENEFITS OF ISO 9001?
ISO 9001 helps organizations ensure their customers consistently receive high quality products and services, which in turn brings many benefits, including satisfied customers, management, and employees.
Because ISO 9001 specifies the requirements for an effective quality management system, organizations find that using the standard helps them:
Create satisfied customers, management, and employees
Continually improve their processes
Save costs
Increase your profitability
Increase employee's efficiency
ISO 9001:2015 Clauses: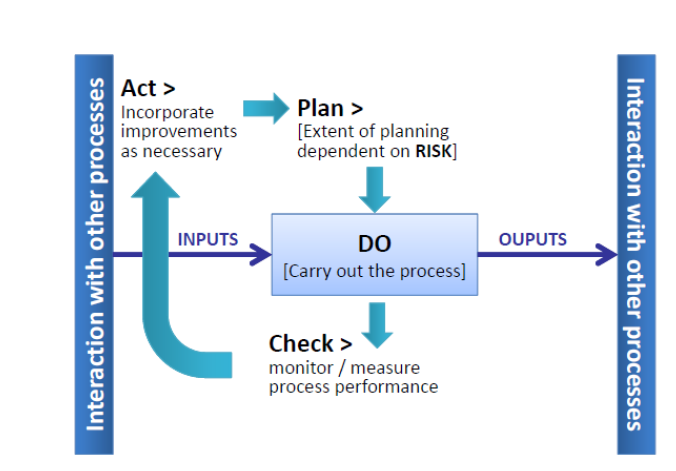 PLAN
1 Scope
2 Normative references
4 Context of the organization
4.1 Understanding the organization and its context
4.2 Understanding the needs and expectations of interested parties
4.3 Determining the scope of the quality management system
4.4 Quality management system and its processes
5 Leadership
5.1 Leadership and commitment
5.1.1 Leadership and Commitment for the Quality Management System
5.1.2 Customer Focus
5.2 Policy
5.2.1 Establishing the quality policy
5.2.2 Communicating the quality policy
5.3 Organizational roles, responsibilities and authorities
6 Planning
6.1 Actions to address risks and opportunities
6.2 Quality objectives and planning to achieve them
6.3 Planning of changes
DO
7 Support
7.1 Resources
7.1.1 General
7.1.3 Infrastructure
7.1.4 Environment for the operation of processes
7.1.5 Monitoring and measuring resources
7.1.6 Organizational knowledge
7.2 Competence
7.3 Awareness
7.4 Communication
7.5 Documented information
7.5.1 General
7.5.2 Creating and updating documented information
7.5.3 Control of documented information
8 Operation
8.1 Operational planning and control
8.2 Requirements for products and services
8.3 Design and development of products and services
8.4 Control of externally provided processes, products and services
8.5 Productions and service provision
8.6 Release of products and services
8.7 Control of nonconforming outputs
CHECK
9 Performance evaluation
9.1 Monitoring, measurement, analysis and evaluation
9.1.2 Customer Satisfaction
9.2 Internal Audit
9.3 Management Review
ACT
10 Improvement
10.1 General
10.2 Nonconformity in ISO 9001
10.2 What is Non-conformance?
10.2 Corrective Action
10.3 Continual Improvement
Mandatory documents and records required by ISO 9001:2015
Here are the documents you need to produce if you want to be compliant with ISO 9001:2015.
Note: (Please note that some of the documents will not be mandatory if the company does not perform relevant processes.):
Scope of the QMS (clause 4.3)
Quality policy (clause 5.2)
Quality objectives (clause 6.2)
Criteria for evaluation and selection of suppliers (clause 8.4.1)
Note: here are the mandatory records (note that records marked with * are only mandatory in cases when the relevant clause is not excluded):
Monitoring and measuring equipment calibration records* (clause 7.1.5.1)
Records of training, skills, experience and qualifications (clause 7.2)
Product/service requirements review records (clause 8.2.3.2)
Record about design and development outputs review* (clause 8.3.2)
Records about design and development inputs* (clause 8.3.3)
Records of design and development controls* (clause 8.3.4)
Records of design and development outputs *(clause 8.3.5)
Design and development changes records* (clause 8.3.6)
Characteristics of product to be produced and service to be provided (clause 8.5.1)
Records about customer property (clause 8.5.3)
Production/service provision change control records (clause 8.5.6)
Record of conformity of product/service with acceptance criteria (clause 8.6)
Record of nonconforming outputs (clause 8.7.2)
Monitoring and measurement results (clause 9.1.1)
Internal audit program (clause 9.2)
Results of internal audits (clause 9.2)
Results of the management review (clause 9.3)
Results of corrective actions (clause 10.1)
Standard Operating procedure (SOP'.
Procedure for determining context of the organization and interested parties (clauses 4.1 and 4.2)
Procedure for addressing risks and opportunities (clause 6.1)
Procedure for competence, training and awareness (clauses 7.1.2, 7.2 and 7.3)
Procedure for equipment maintenance and measuring equipment (clause 7.1.5)
Procedure for document and record control (clause 7.5)
Sales procedure (clause 8.2)
Procedure for design and development (clause 8.3)
Procedure for production and service provision (clause 8.5)
Warehousing procedure (clause 8.5.4)
Procedure for management of nonconformities and corrective actions (clauses 8.7 and 10.2)
Procedure for monitoring customer satisfaction (clause 9.1.2)
Procedure for internal audit (clause 9.2)
Procedure for management review (clause 9.3)
SECTOR-SPECIFIC APPLICATIONS OF ISO 9001
ISO has a range of standards for quality management systems that are based on ISO 9001 and adapted to specific sectors and industries. These include: